Work of | Euripide
Translation | Walter Lapini
Direction | Davide Livermore
Costumes | Gianluca Falaschi
Music | Andrea Chenna

Lights design | Antonio Castro
Video Design | D-Wok
Assistant director | Alberto Giolitti
Assistant set designer | Lorenzo Russo
Costumes assistant | Anna Missaglia
Stage manager | Mattia Fontana
Volunteer assistants | Danilo Carciolo, Dario Castro, Eleonora Sabatini
Set-up coordinator | Marco Branciamore
Assistant costume designer and tailoring manager | Marcella Salvo
Audio project | Vincenzo Quadarella
Heads of the scenographic sector | Antonio Cilio, Carlo Gilè
Hair and makeup manager | Aldo Caldarella
Paris did not kidnap Elena, but a ghost in the likeness of Elena.
The real Helen is in Egypt, where King Theoclimenus intends to marry her by force. To escape him, Elena takes refuge in a sacred place. Here he meets the castaway Menelaus, returning from Troy with a few soldiers. Recognizing each other, the two study an escape plan.
Pretending to have learned from a traveler (Menelaus himself) that her husband is dead, Elena obtains a ship from the king to perform a funeral rite at sea. Embarking with Elena, Menelao and his friends (who had come up with a pretext) eliminate the crew and flee. The king, deceived, would like to kill his sister, the fortune-teller Teonoe, who with her silence favored the escape of the Greeks. But the Dioscuri restrain him, convincing him to accept the will of the gods.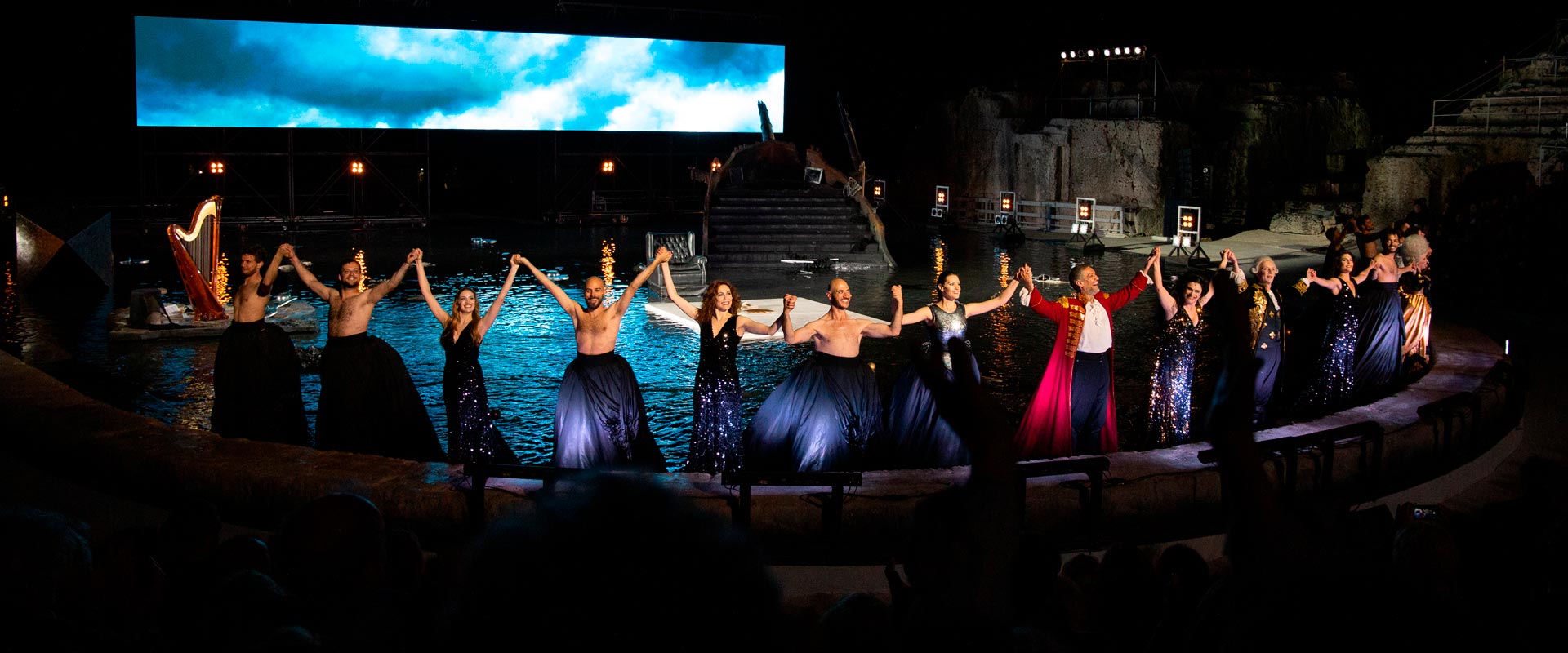 Elena
| Laura Marinoni
Teucro
| Viola Marietti
Menelao
| Sax Nicosia
An old woman
| Mariagrazia Solano
First Messenger
| Maria Chiara Centorami
Teonoe
| Simonetta Cartia
Teoclimeno
| Giancarlo Judica Cordiglia
Messenger of Theoclimenus
| Linda Gennari
Corifea
| Federica Quartana
Chorus and Dioscuri
| Bruno Di Chiara, Marcello Gravina, Django Guerzoni, Giancarlo Latina, Silvio Laviano, Turi Moricca, Vladimir Randazzo, Marouane Zotti
Costumes | Laboratorio di sartoria Fondazione Inda Onlus
Scenographies | Laboratorio di scenografia Fondazione Inda Onlus
Communication Area | www.indafondazione.org
Thanks to Crea Fx Special Effects
9/11/15/17/19/21/23/25/29/31
Inizio spettacoli ore 18:30
2/4/6/8/12/14/16/18/20/22
Inizio spettacoli ore 19