Work of | Euripide
Translation | Alessandro Grilli
Direction | Muriel Mayette-Holtz
Assistant director | Mercedes Martini
Scenic Project | Stefano Boeri
Costumes | Marcella Salvo
Music | Cyril Giroux
Lights design | Angelo Linzalata
Playwright | Cristiano Leone
Assistant for the scenic project | Anastasia Kucherova
Choir director | Elena Polic Greco
Stage manager | Giuseppe Coniglio
Volunteer assistant | Ginevra Di Marco
Set-up coordinator | Marco Branciamore
Tailoring manager | Marcella Salvo
Audio project | Vincenzo Quadarella
Heads of the scenographic sector | Antonio Cilio, Carlo Gilè
Hair and makeup manager | Aldo Caldarella
After a long war, the city of Troy is defeated.
Trojan men were slaughtered and women assigned as slaves to the victors.
Cassandra is given to Agamemnon, Andromache to Neoptolemus and Hecuba to Odysseus.
Andromache suffers a terrible fate: Astianatte, the son had by Hector, is killed by the Greeks to prevent one day from avenging his father's death. Hecuba and Elena challenge each other in a sort of judicial battle, to establish the responsibilities for the outbreak of war.
Meanwhile, the little body of Astianatte is returned to Hecuba for the funeral rite.
Troy is given to the flames while the prisoners say goodbye to their city for the last time.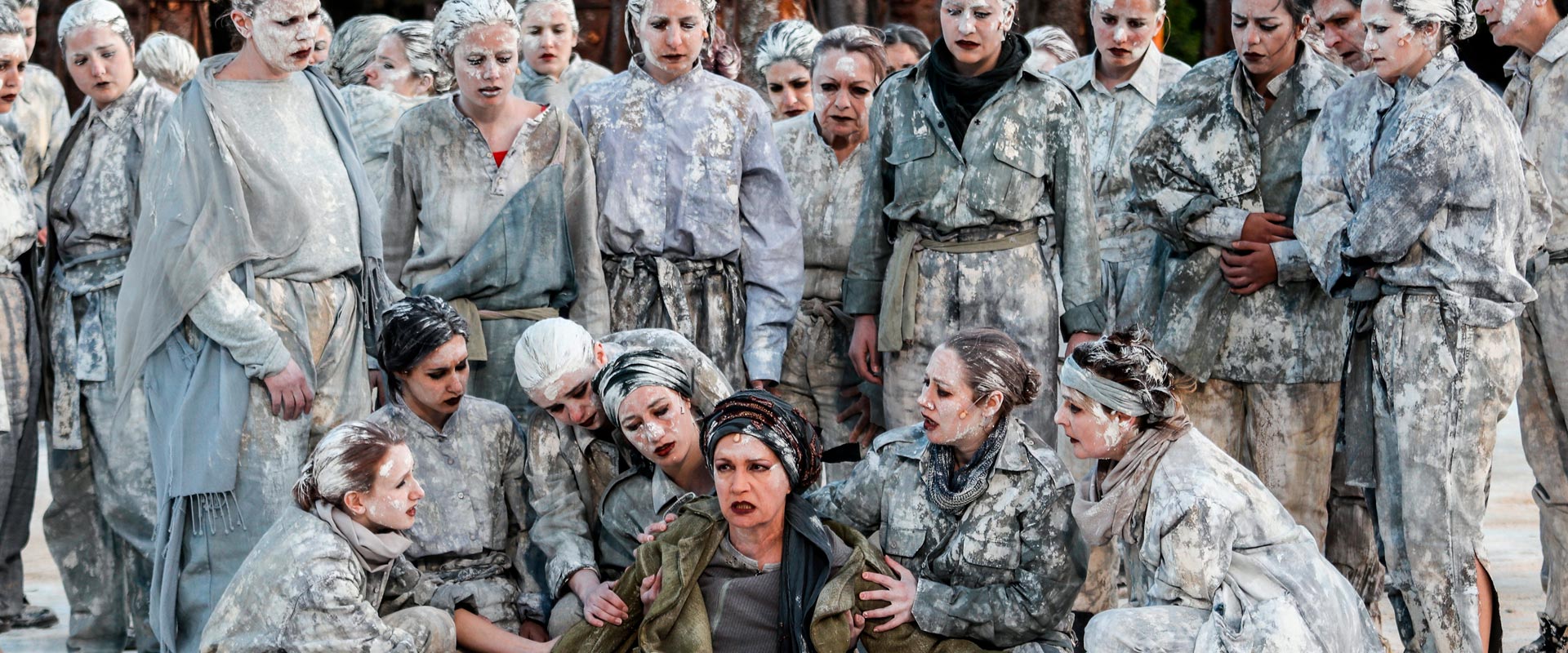 Poseidon | Massimo Cimaglia
Athena | Francesca Ciocchetti
Ecuba | Maddalena Crippa
Choir leader | Elena Polic Greco
Corifea | Clara Galante
Taltibio | Paolo Rossi
Cassandra | Marial Bajma Riva
Andromaca | Elena Arvigo
Astianatte | Riccardo Scalia
Menelaus | Graziano Piazza
Elena | Viola Graziosi
Guitarist | Fiammetta Poidomani
Choir leader of old Trojan prisoners | Doriana La Fauci
Academy of Art of Ancient Drama Theater School section "Giusto Monaco"
Chorus of Trojan prisoners | Giulia Antille, Beatrice Barone, Priscilla Bavieri, Virginia Bianco, Simona Caleca, Irene Cangemi, Serena Carignola, Serena Chiavetta, Federica Cinque, Benedetta D'Amico, Simona De Sarno, Ambra Denaro, Adele Di Bella, Giorgia Greco, Federica Gurrieri, Irene Jona, Giorgina Kezich, Valentina Lo Manto, Sveva Mariani, Sara Mancuso, Vittoria Mangiafico, Ornella Matragna, Giulia Messina, Silvia Messina, Irene Mori, Arianna Pastena, Francesca Piccolo, Daniela Quaranta, Isabella Sciortino, Alba Sofia Vella, Francesca Vignali, Gaia Viscuso, Gabriella Zito
Taltibio Guards | Alessio Iwasa, Davide Raffaello Lauro, Riccardo Livermore, Nicola Morucci, Andrea Pacelli, Gabriele Rametta
Academy of Art of Ancient Drama "Fernando Balestra" Theater School section
Guards of Menelaus | Salvatore Amenta, Massimo Marchese, Francesco Piraneo
Chorus of old Trojan prisoners | Maria Baio, Maria Gabriella Biondini, Cettina Bongiovanni, Carmen Cappuccio, Irene Di Maria, Lucia Imprescia, Rosamaria Liistro, Giusy Lisi, Maria Verdi
Costumes | Tailoring workshop of the Inda Onlus Foundation
Scenographies | Inda Onlus Foundation scenography workshop
Communication Area | www.indafondazione.org
10/12/14/16/22/24/26/28/30
Inizio spettacoli ore 18:30
1/5/7/9/11/13/15/19/21/23
Inizio spettacoli ore 19